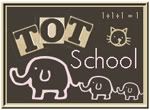 This was a busy week for us. We started the week with
Music Class
and our
stART project
. Ryleigh had two friends come over one day to "play projects" again. We also had a visit from my Grandmother during Tot School Hours on Thursday:) The end of the Week we had Art Class at my friend
Michelle's house
and at Dance, they had their Halloween party.
Ryleigh working on the Letter of the Week "B". I got the activity from
No Time For Flash Cards.
This week we made bumble bees.
Ryleigh working on matching letters up to her name. I got this activity from
1+1+1=1
. I made name tags for all the girls with their pictures. As I collect more water tops, I am going to do animals, shapes, etc. All the girls were really good at this activity!
Working with some Playdough....always a favorite :)
My Grandmother brought over some cards, address labels and stickers. Ryleigh had a great time working with these....a great fine motor skill practice!!!!
Braeden spending some time with his Great Grandmother
Ryleigh doing an activity from
1+1+1=1
, the heads- tails portion of the farm activity tot book.
Ryleigh at Art Class
and Braeden with his friend watching their sisters at Class....
Ryleigh and Friends at the Dance Class Halloween Party....
we got to go in at the end to see them :)
Check out what others did this week for Tot School at
1+1+1=1.