This year I have been working on Sight Words with my K4 class and beginning phonics blends with Ryleigh...and when I was given the opportunity to review Classical Phonics and and First Start Reading from Memoria Press I was THRILLED!!!! I had not yet chosen a curriculum for Reading... and now I am so glad I waited. Memoria Press offers a wide range of easy to use AFFORDABLE programs for students of all ages.
From the webpage: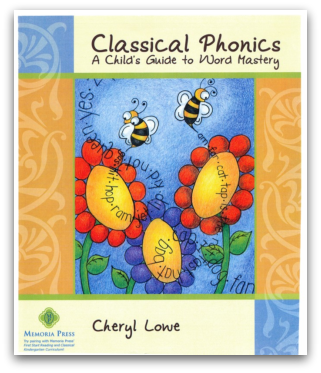 Classical Phonics is a deceptively simple little book our teachers and families use constantly in both Kindergarten and first grade. It consists of phonetically-arranged word lists for students to practice their growing phonics skills. In a word list there are no context clues, so the learner must rely on his mastery of letter sounds. For instance, if your child can pronounce each word in this list correctly – pot, pat, pit, put, pet – he knows his short vowel sounds, and you can move on to long vowels! Classical Phonics can be used as a supplement to any phonics program and covers nearly all English phonograms and sounds taught through second grade. Classical Phonics is your handy tool for phonics practice and for building confident readers.
You can view some sample pages HERE.

I loved this book and found that we jumped right into it..having started phonics/blends before... I thought that it was extremely organized...and who doesn't like organization? And super easy to understand and follow. You could totally use this with other phonics programs! It can be purchased for $14.95.

From the Webpage:

First Start Reading covers consonants, short vowels, 45 common words, and manuscript printing, accompanied by artist-drawn coloring pictures and drawing pages for every letter. Your child will begin reading in the very first lesson as he progresses through three student books and twenty-five phonetic stories, such as "Hogs and Pigs" and "Jog to the Jet." A Teacher Manual guides you through the program and provides helpful assessments and teaching tips.
Ryleigh at the beginning of the book...stringing together A and M to form "AM"...

**This is a photocopy solely for the review...of the page in the workbook I was given...**
We really like how straight forward and easy to use these workbooks are... There is a natural progression and the kids just flow from one lesson to another. I also like that they are pretty much reading from the beginning...and that there is a lot of Handwriting work involved... Repetition is the key to success at this age...

After using this program for the past month, I can definitely see that it WORKS! Because we already use a handwriting curriculum, the only thing that would have made it better...for US...is the order the letters are presented... I have a feeling that would mess with the method of these books though! ;-)

The Student set is available for $22.00, the complete set with teacher's guide is $29.00.
Some Crew members were given First Form Latin also from Memoria Press to review....their reviews can be found by clicking the banner below...
*As a member of the TOS Crew review program I was given a free copy of this product to review
. The opinions I have expressed are my own. To see what other members of the Crew thought click below: