Math Mammoth offers affordable quality math worktexts and workbooks for Grades 1 through 8... These are available as both downloads and printed books....These books concentrate on conceptual understanding and are strong in mental math...
The first 8 pages were Kindergarten review...and as I have 5 kids in K4 this year... it was a great way to make sure that everyone was on the same "page"...
Some Members of the TOS Crew were given the choice of which series they wanted to review...
I had the honor of reviewing the Math Mammoth Light Blue First Grade Curriculum.... I really can not say enough great things about it!!! (Also...as a side note... there is virtually NO parent/teacher prepping needed for these lessons).
From the website:
Math Mammoth Grade 1 complete curriculum consists of two student worktexts (A and B), a separate answer key for each, chapter tests and an end-of-year test, cumulative reviews, and an easy worksheet maker (Internet access required) to make extra practice worksheets when needed.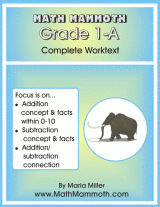 133 pages
118 lesson pages, of which 8 are an optional Kindergarten review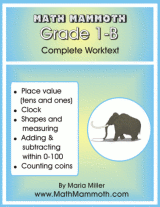 125 pages
110 lesson pages
1-A contents and samples
1-B contents and samples

Downloads:
(sold at Kagi)
Full set grade 1: $34.00

At Rainbow Resource Center:
Math Mammoth grade 1 books
at Rainbow Resource
The two student books (A and B) for 1st grade cover the following topics:
addition and subtraction concept and basic facts within 0-10
place value with 2-digit numbers (a.k.a. tens and ones)
some adding and subtracting within 0-100
some geometry and measuring topics
reading clock to the half-hour
counting and using coins (US, Euro, or Canadian)
We really liked how straight forward and easy to understand these worksheets were...

There are
free placement tests
available on the website which are extremely helpful when deciding which grade level to use!!
I also want to make sure and mention that the customer service was UNBELIEVABLE!!! It is definitely tailored to the individual customer...and it is obvious that Maria Miller- the creator- cares about her product...and those using it... she is available by email and is more than happy to answer any questions you have about Math Mammoth!
*As a member of the TOS Crew review program I was given a free copy of this product to review
. The opinions I have expressed are my own. To see what other members of the Crew thought click below: