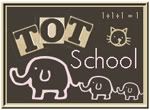 This was a very busy week for Tot School...we had a lot to do to prepare for Christmas...a lot of family activities...projects to do...Santa to see....a
stART project
...and Dance class.... these pictures are a little out of order...
Waiting in line to see Santa...
It did not. go. well....

maybe next year :)
Ryleigh playing with her present from Uncle Kris and Aunt (Mel)lissa... baking utensils that kids can also play with....so fun!!!! I think I love them as much as Ryleigh does!
Tracing...
Michelle
printed these (I think they were supposed to be cutting practice)...and brought them over when the girls were here this week...we put them in page protectors, had the girls use white board markers and felt to erase....great idea!!!
Ryleigh doing activities from a Christmas Tot Pack that I got from
1+1+1=1
. I laminated them for her and she requested to do them every day this week...her favorites were the Christmas Tree matching/sort; matching the letters for Merry Christmas; Where is the Gift?; and the Shapes. She had a lot of fun with these.
Since I love hand-print art...and Christmas Crafts...I had the girls do Shape Hand-Print Angels. I started out by asking the girls to find the different shapes (and hold them up)...then we glued the shapes into place and finished with hand-prints for wings.
Ryleigh...fast asleep with Grandpa...and Elmo too of course...
they were going to watch a movie...I don't think she even made it through the opening credits...
HAPPY HOLIDAYS!!!!!!
For more fun Tot School activities check out
1+1+1=1.