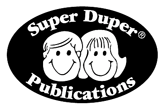 We got to review an awesome program from Super Duper Publications: Hear Builder (Following Directions)....
From their website:
Webber HearBuilder Following Directions is the all NEW innovative, evidence-based, interactive software program that gives students a systematic way to improve their auditory and following directions skills. At the same time, students will learn how to become Master Toy Makers while building their own Toy Central factories.
It is geared towards children ages 4-9... in Grades PreK-3....and retails for $69.95 (however there is a 30% off coupon below)....
Children learn to Follow increasingly difficult directions and Show knowledge of 40 basic concepts in five areas
Basic Directions

Temporal Directions

Sequential Directions

Conditional Directions

Quantitative and Spatial Directions
We found this game to be a lot of fun.... with minimal set up...or parental involvement. Ryleigh is 5 and starting Kindergarten, so she fell right into the target audience....She was able to navigate through the game pretty easily- so there was no frustration there. I really liked that to get to the next level, the current level does not need to be completed (allowing game browsing)....
I would recommend this game for fun as well as to help build listening skills... I will also use this game with Braeden (almost 3) when he gets a little bit older to practice following directions...
If you would like to try a demo- go check them out....
I also had a lot of fun browsing the Super Duper Publications website... there are SO MANY neat things on there :-)
Some awesome coupons that are good until the end of August on Hear Builder and some of the other products available:
HearBuilder Following Directions Home Edition
HearBuilder Auditory Memory Home Edition
To see what other crew members click

here

:
Disclosure/Disclaimer: I received the above product free of charge for review purposes. I am only expected to give an honest review.