A story + art = a great stART!

This week for our stART project we read Warthogs Paint...which is very colorful..and very messy...well not literally because it is a book...the Warthogs have fun mixing colors...for our project Ryleigh made a Toilet Paper Mache (vase?)..also very colorful...and not really as messy as I anticipated it being...

So...Ryleigh has been potty -trained for a whole week now...and that is purely coincidental to the project...but I was trying to come up with something different to do...and thought...perhaps you could use toilet paper to mache ? ...instead of newspaper...turns out you can...and there are even instructions on the internet.... I didn't follow them really well...but I got the gist...
Step one is to spray whatever you are using as your mold with a pam like substance...I used olive oil spray...then I covered it in plastic wrap...
Step two is to mix toilet paper (we used the 2-ply charmin) and some water and glue...then goop it together with your hands until you think it might stick...
Step three...apply mixture to mold...let dry until no longer sticky (it took about 24 hours...and did not feel hard to the touch... it was still soft...)
Step four- paint...then let dry
Step five- gently slide the mache from the plastic wrap/mold (it should come right off)
Ryleigh adding toilet paper into some water...

Braeden...completely upset...not because Mommy is taking pictures...
but because sister is not playing with him... "how long is this project going to take?"
The finished project....a vase? (maybe...or maybe a holder of sorts)...
either way this project was WAY less messy and much easier than I thought it was going to be... I think we will mache again...
For More great stART projects go to
A Mommy's Adventures!
Also linking to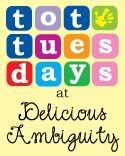 and