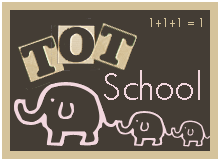 This week we got back on schedule and we were very productive! We had
Musical Monday
, did a
stART project
, did "tot school", had a playdate and went to dance...it definitely felt good to get out of the house after being sequestered for 2 1/2 weeks! We did lots of writing practice and puzzles...but I didn't get pictures for most of them...I'm sure you can imagine what happened though :)
We always start our weeks with Music...and Ryleigh really likes Elmo to participate (or watch)... so here Elmo is...watching Music class...safely behind glass to keep lots of little fingers from touching him.... please ignore the pink dress....

This week the Letter of the Week was "J" is for Jellyfish... I had the girls paint with toilet paper rolls on the tops of the J and then glue ribbon on them... not my cutest idea ever.... but next week is a new week and we are on to "K"....
Elmo has brought a friend...her name is funshine bear...to watch project time with Ryleigh...
My friend Dawn brought over some paint dot activity hearts. The paint dots are bingo markers from the dollartree. Ryleigh really liked this activity...so I guess we will have to go get our own "markers"...
Recently I won a pegboard and pegs from
Shannon's blog
. Ryleigh loves to play with it and there are so many fun things that can be done with it...from stacking to pattern work... thank you so much Shannon!!!
Ryleigh playing with her new pegboard.
So...we got the Melissa and Doug scissors...pretty much the best things that have ever been invented....I am only sorry that we did not get them sooner.... she was able to use them right away..they are easy to hold, open and operate....YAY!!!!!
Ryleigh using her new scissors..
.
We played Memory with I Spy cards...the matches were not identical..which I thought might be harder for her...but she really liked this game and we have played it over...and over...and over...(and over)...again...
One of Ryleigh's favorite activities is doing puzzles. Here are pictures of her doing her clock puzzle and a Melissa and Doug Puzzle. She pretty much does several puzzles a day...
Check out what others are doing for their Tot School at
1+1+1=1.